Pluris' team of Louisville natives and market mavens make relocation simpler for both our corporate partners and their employees.

Louisville Neighborhood Map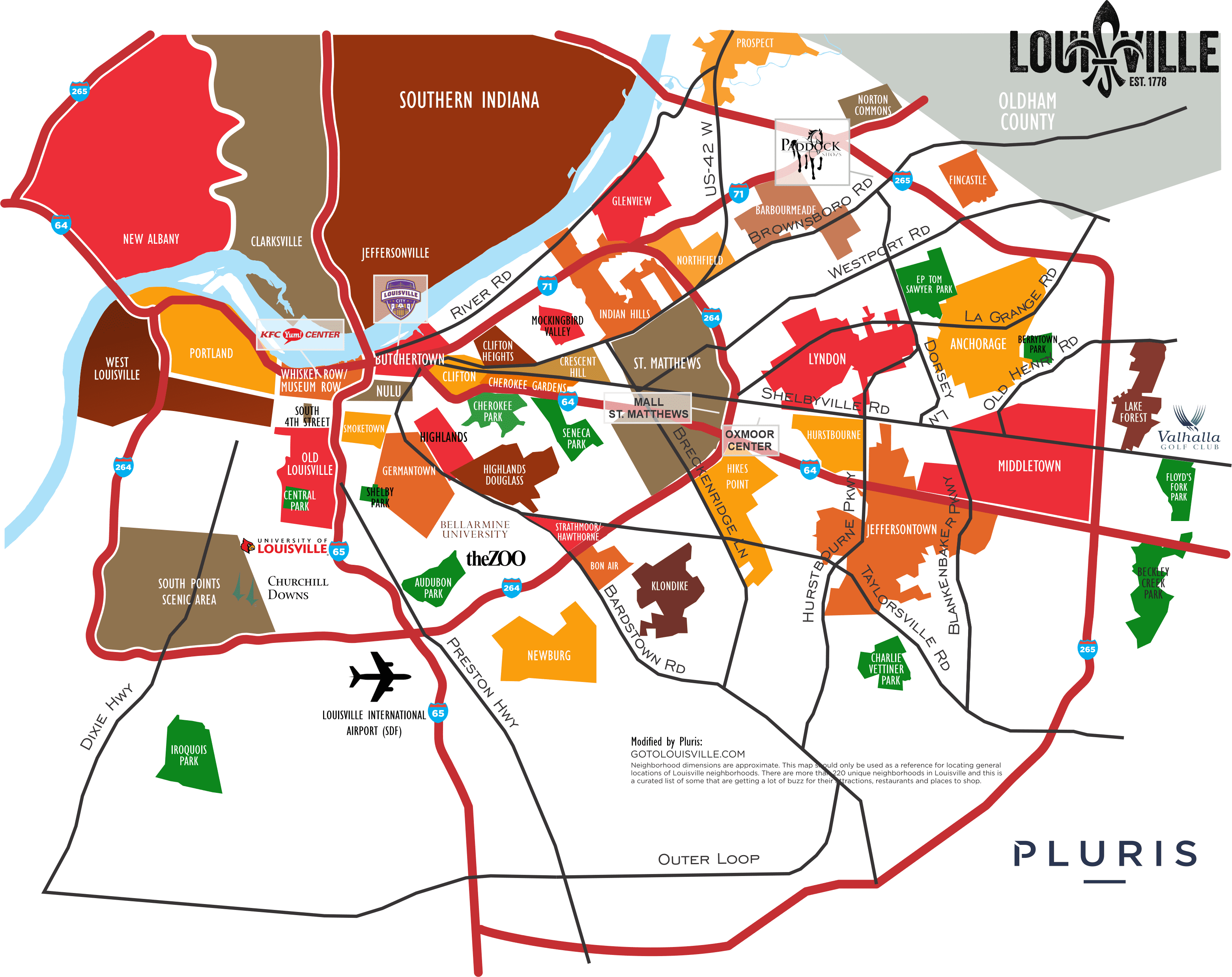 Prospect – Located outside of the Gene Snyder (I-265), this area of Louisville features homes on typically larger lots and is primarily a residential destination.
Indian Hills – One of Louisville's oldest and wealthiest neighborhoods located conveniently inside the Watterson Expressway (I-264). This largely residential neighborhood features higher-end homes on typically larger lots. With the convenience of having the ability to be anywhere in Louisville within 15 minutes, Indian Hills remains a highly desired residential location.
Brownsboro Road Corridor – Covering Northfield, Glenview, and Barbour Meade, the Brownsboro Road corridor on the Upper East End mainly consists of single-family homes. Located within proximity to the Watterson Expressway (I-264), these neighborhoods offer tremendous convenience to almost all of Louisville. Holiday Manor represents the major retail presence in the neighborhood which houses several high-end restaurants and a Kroger.
Audubon Park – Conveniently located to the airport, downtown, and the Highlands neighborhood, Audubon is a residential oasis with tremendous curb appeal. Known for its tree-lined streets and six neighborhood parks, Audubon also hosts the annual spring dogwood festival to showcase its beauty. Amenities include one of Louisville's oldest country clubs; Audubon Country Club and is a short distance from The Louisville Zoo and Bellarmine University.
Crescent Hill – With the bustling Frankfort Ave. running through the heart of Crescent Hill, the neighborhood has a multitude of amenities to offer that include retail shops and an extensive dining scene. Home to many historic homes located in its eclectic neighborhoods, Crescent Hill has something to offer for everyone. Be sure to catch the annual trick or treat on Hillcrest!
Jeffersontown – Home to the historic gaslight square district, Jeffersontown (more commonly known as J-Town), is one of Louisville's most large and diverse neighborhoods. Along with large residential developments, J-Town is home to the Bluegrass Industrial Park which is the home for many local businesses with a tremendous amount of office and warehouse space. Along with businesses, J-Town offers an abundance of amenities that include retail, restaurants, and entertainment. These offerings include Costco, Main Event, and Xscape Theatres.
Anchorage – Featuring historic homes, country estates, and an endless canopy of oak and magnolia trees, Anchorage is a third-class city located within Louisville just inside of the Gene Snyder Freeway (I-265). Centered around one of Kentucky's most awarded K-8 school districts, Anchorage Public School, Anchorage is an idyllic place to raise a family. Other amenities include Owl Creek Country club which features swimming, a 9-hole golf course, and tennis courts.
Hurstbourne – Tucked away just off one of Louisville's busiest corridors, Hurstbourne Lane and Shelbyville Road, Hurstbourne is a haven in the midst of all the action. Located within just a few miles from Louisville's two busiest malls, Oxmoor Mall and Mall St. Matthews, residents of Hurstbourne have tremendous access to retail and restaurants. Recent extensive development in the office sector has made this area a beacon for businesses looking to relocate. Additionally, the neighborhood is home to one of Louisville's most prominent country clubs, Hurstbourne Country Club which features a championship golf course, pools, and tennis courts.
Lyndon – Located conveniently just outside of the Watterson Expressway (I-264), Lyndon features mostly residential homes. In addition to the large residential presence, it also features one of Louisville's most unique retail centers known as Westport Village. Featuring over 50 local businesses, Westport Village has become a shopping and dining destination for the east end of Louisville.
Germantown – With the development of Germantown Mill Lofts (a luxury apartment community), Germantown has seen a resurgence of attention and investment in the past three years. A historically working-class neighborhood, new restaurants, and retailers have relocated to the area. With property values increasing, renovated homes are popping up consistently, making this a very desirable up and coming area of town.
Downtown, Nulu, Butchertown, Smoketown – The downtown Louisville corridor has seen a resurgence of investment in recent years. New hotels, restaurants, and retail has popped up in the trendy Nulu as well as downtown. Butchertown will be home to Louisville's own professional soccer team when their stadium is complete for the 2020-2021 season. Unique and historic properties have been beacons for renovation in recent years providing an opportunity for buyers to find luxurious accommodations in this bustling area of Louisville.
Old Louisville – Located just south of downtown Louisville, Old Louisville is known for its large historic homes featuring almost entirely Victorian architecture. It also is home to the renowned St. James Court art show that is held annually on the first weekend of October.
West Louisville – This area of town which includes Portland, is at the heart of a movement for a resurgence. New art galleries and other retail are popping up and renovated homes are beginning to come to market.
Iroquois Park – Home to one of Louisville's largest parks, Iroquois also boasts an 18-hole public golf course as well as the Iroquois Amphitheater which has attracted some top musical acts from around the country. Widely considered one of Louisville's most beautiful parts of town, it boasts affordable homes, retail, and restaurants.
Oldham County – Located just outside of the City of Louisville, this county has positioned itself as a go-to destination for families seeking Oldham County Public schools for their children.
Lake Forest – One of Louisville's most prestigious and largest neighborhoods. Boasting over 1700 homes with well-manicured landscaping, Lake Forest has positioned itself as a go-to neighborhood in the east end of Louisville. Along with close access to Middletown Commons retail, it boasts its own country club featuring an Arnold Palmer designed champions golf course.
Norton Commons – "Experience a Lifestyle in Norton Commons" is how to best describe this east end neighborhood. Designed to be a city in of itself, Norton Commons features virtually zero lot-lined luxury homes next to restaurants, retail, offices, parks, and playgrounds. It encourages you to immerse yourself in the lifestyle and enjoy all the benefits it offers.
Middletown – Established in 1797, Middletown sits on the east end of Louisville. Amenity rich with extensive retail, restaurants, and schools, Middletown has positioned itself as an idyllic location to raise a family. Some popular destinations include The Parklands @ Floyds Fork, Southeast Christian Church, and Middletown Commons.
The Highlands – One of Louisville's oldest and most established areas, this neighborhood is known for homes with unique architecture and is also home to Louisville's most bustling retail scene. Local restaurants are abundant and annual festivals such as the Cherokee Triangle Art festival are some of Louisville's favorites.
St. Matthews – A popular East End Location with numerous great restaurants and nightlife choices. Popular restaurants include Jack's Lounge, Havana Rumba, Ruth's Chris, and many more. At the corner of Breckenridge Lane and Shelbyville Road, you will find extensive nightlife options including Molly Malone's, Tin Roof and Saints. Home to Louisville's two largest malls in Oxmoor Mall and Mall St. Matthews, St. Matthews is a great location with numerous amenities at your fingertips.